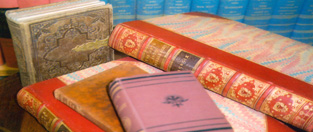 Welcome to the quotes and literature links area of the Artisan website, where you will find a collection of literary resources on the web where you can fortify your mind with the wisdom and writings of the past including inspirational quotes, poetry, and classical literature.

New links will be posted occasionally...enjoy your travels!

Inspirational Quote Links

Artisan Quotes - Our Own Page of Select Inspirational Quotes

Notable Quotes - Categorized Quotes by Subject and Author

The Quote Garden - Categorized Quotes by Topic and Occasion

Famous Inspirational Quotes - Categorized Quotes by Subject and Author

Happy Publishing - Inspirational Quotes and Sayings

Literary Links

Dictionary.com - Online Dictionary and Thesaurus

Stanford Encyclopedia of Philosophy

Artisan Links Directory

Astronomy · Quotes and Literature · Sundial · Time

Inspirational Thinking · Tranquil Living · Fun · Miscellany

"A teacher's first duty is not to assign, but to inspire. He is not merely a walking textbook filled with encyclopedic facts neatly arranged for dictation, but a dynamo charged with a contagious enthusiasm."

Dr. Oscar G. Darlington, PhD

We dedicate this literary resource page to the memory of Dr. Oscar G. Darlington (1909-2006) in appreciation for his lifelong scholarship and pursuit of knowledge, culture and wisdom, and for the love of books, literature and history that he has inspired in so many of the people he has come into contact with over the years. We hope that the intelligent connections provided on this page might continue to inspire the same kind of enthusiasm for learning that he strived to instill in his students, family and friends during his lifetime.

He has indeed had a profound influence on all of us...